This year the 6th graders from Highland Terrace Elementary and 8th graders from Einstein Middle are participating in the Student Spaceflight Experiments Program. In this program they are designing experiments, one of which will be selected to be performed on the International Space Station in the fall.
As part of this program all of the students in our two schools are also invited to participate in the an art and design competition to create a Mission Patch that captures the SSEP experience and that will represent our students and schools on the International Space Station.  One mission patch from each school will be selected and flown as part of the payload containing our experiment, and will be returned to our schools embossed with a certification stating that they flew in space!
Mission Patch Requirements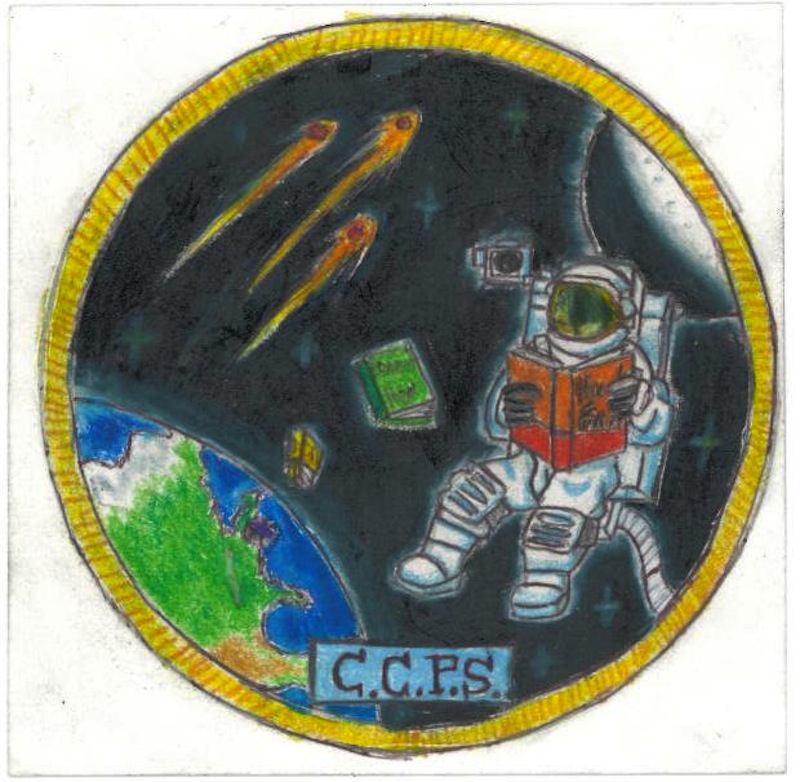 At right is the selected Mission Patch from Charles County, Maryland, which flew with their experiment on STS-135, the final flight of Shuttle Atlantis, and the final flight of the U.S. Space Shuttle program.
Requirements:
1.     The Mission Patch must be a 4-inch x 4-inch piece of paper, and its design should reflect pride in our community, and our participation in the SSEP.
2.     There is no restriction on the type of paper or the inks to be used. But to fly, it must be paper not card stock or cardboard.
3.     The Mission Patch can be black & white or full color.
4.     The Mission Patch can only be composed of a single sheet of 4-inch x 4-inch paper and the ink on the paper.
5.     The Mission Patch cannot include multiple layers of paper glued or taped on top of one another.
6.     The student's name must be included on the back of the patch
The two winning designs will be selected by a panel of staff and parents and will be announced at an evening event on May 1 where 6th and 8th grade teams are presenting their proposals. More information about the Student Spaceflight Experiments Program can be found at  ssep.ncesse.org/
The due date for patches is April 20.  Patches can be turned into the main office.
NOTE: Mrs. Baldi is happy to have kids come in to work on this during 8th grade PRIDE Mondays, Tuesdays and/or Wednesdays.